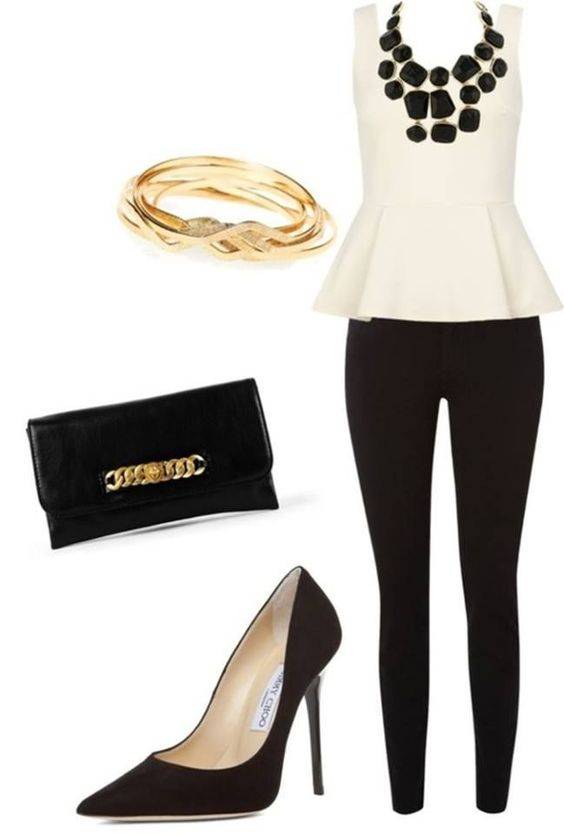 CROSS THE LINE INTO STYLISH TERRITORY WITH 20 GOLDEN RULES OF STYLE
The fact that the outfit reflects the latest fashion trends does not mean that it will fit the wearer. You have to learn to choose clothes that highlight your body. If some of the latest fashion trend clothes do not fit you, you can choose fashionable accessories to add them to classic, comfortable, and upright garments in order to combine flattering with modern!Welcome to the list of 20 Golden Rules to look Your Best Self!

TRUE TO ACTUAL SIZE
Buy the clothes that really fit now, but not in future, when You will finish Your diet. Wearing a piece of clothing that does not fit in size will make you look larger than you really are.
NEVER TOO TIGHT
Choose things that will optically reduce your body's problem areas. For example, if you want the belly to look thinner, do not wear tight tops, but choose a beautiful tunic. Instead of wearing miniskirts, hide the massive legs below the flowing shape of the skirt. Keep in mind – baggy style clothing can make you visually larger.

SHAPEWEAR
Make sure you wear suitable underwear. In the case of overweight, choose a SPANX type underwear instead of string pants. They help to pull in a tummy and look slimmer. A good bra can also make a slender figure, so do not save on the time to pick out the right one and fit it on before you buy. Do not forget to take to the fitting a slim t-shirt and try it on each bra to see if the bra does not distort the silhouette - it's not too pointed, laces do not stand out, etc. It is best to choose smooth bras.
BRING OUT THE BEST
Issa via www.vogue.com
Highlight the most beautiful parts of the body. If you have a beautiful, slim neck, but are slightly overweight, pay attention to the neck with a necklace or other accessories. If you have beautifully tanned arms, wear a sleeveless top to highlight it!
POSTURE
Have a good posture. Stand straight, pull the abdomen and move your shoulders. You can train with a book on the head. Whenever an opportunity arises, check yourself in the mirror if your back is straight. This is probably the most important suggestion, because a bad posture can visually add a few extra pounds.
BLACK
Wear more black! The black visually makes one thinner, optically reducing the stomach and other parts of the body, since only the black silhouette of the garment is visible. It can be greatly complemented with a belt and jewelry.
GO BRIGHT ANY SIZE
Contrary to popular belief, people wearing large-size clothing CAN choose bright-colored clothes if garments match the body's shape and fit as smooth they should fit. Just never wear anything with glossy/shiny texture finish or bright colors in areas you do not want to highlight too much!
LONGER LEGS
Straight trousers make up a continuous, unbreakable line from the top of the leg to the lower part, making it look longer and even thinner.
PANT STYLES
Banana-pants (puffy pants narrowed to the ankles) will make the round bottom look like ice cream balls in waffle cones. Boot cut pants or slight flares visually balance and smooth out disproportionate shapes and prolong legs.
CLOSURE PLACEMENT
Choose shorts and skirts only with side or back fastening. The zipper on the front will put an accent on the shape of your belly, so if You don't want to put an accent on Your rounded belly, avoid front closures and opt for the side or back closing of garment.
POWER BLAZER
Get a good fitting BOSS BABE blazer or coat to match or add to your outfit or dress. Correct cut and size blazers or coats always look very stylish on of anything! Look for clothes that are slim in the figure - this way the side silhouette of the garment marks slender body shapes better than a completely loose jumper style clothes.
PERFECT SLEEVES
The BELL SLEEVES perfectly hides rounded arms!
The trick with rolled up sleeves does the same effect if that is a regular button up dress shirt You are wearing.
3/4 Sleeves on dresses and any top is the ultimate length for the skinny arm look!
If You have to go with shorter sleeves, find the ones which hide the shoulder at at least a half of the area.
EMPIRE WAISTLINE
The golden rule of "Empire Waist Cut"! The empire cut tops and dresses are universally most all-flattering. It has a simple stitch or horizontal line immediately below the chest. This style helps to pinpoint the narrowest part of the body, visually enhances breast area, directing your eyes closer to the face and hiding the stomach, making it look flat. If the "Empire Cut Line" of the garment is located on your chest, not below it, the effect will be more negative, for that reason You must do a honest fitting, making sure that the empire cut line is really taking it's right position right on or slightly below Your bra's bottom line. Choose a cut that fits your chest size. With a suitable cut, smaller breasts can be visually enhanced.
Photo: Empire waist cut dress from Katana Collection
SILHOUETTE
Make sure that the garment is not visually distributing the the body into separate sections. Body must look united. It will make you look taller and slimmer.
PANT LENGHT
The pants must have a perfect length, at least to the ankle to make legs look longer. Otherwise, it looks as if the clothes are too small (or you are too big)!
COLOR TEST
As I curse the day I learned to lift one eyebrow just for fun, as it resulted an early wrinkle on my forehead, I also learned that even such imperfections can be made invisible just by wearing the right color closer to the face. Meaning - if You like red, but is not Your most "refreshing" shade, just don't wear it close to Your face, but opt for a Ferrari Red bag or finally just a Ferrari.
There just are those shades which freshens Your skin tone up or makes it look dull. My quick fix theory in one word is: If You are a brunette - wear contrasting white closer to Your face for the most effective "refreshment" and opposite if You are a blonde, wear black for contrast!
Find out the colors that fit you. Go to the mirror and, after putting the garment next to your face, check that it's color freshens up, blends or makes the face look too bleached and how will it impact the complete look. It will be immediately visible.
BLACK AND WHITE RULE
White and light colors will make bigger, black or dark – will make anything smaller. Keep this in mind, when hiding the problem areas of your body. For example, if you have a pear style body, always wear a lighter color upper garment. In other words, always avoid wearing light-colored clothing on problem areas. For example, wearing a black dress with a white strap across the waist, it will make the waist a lot larger than without such a belt.
TEXTURE OF FABRIC
Image via www.katanafashion.com
Choose smooth, solid fabric garments with no extras. Textures, metallic fabrics, sequins and patterns highlight and inflate the area below the lumbar line, paying unwanted attention to the belly, sometimes even increasing it visually.
WAISTLINE
Pay attention to waist height when buying pants! An over-waisted line can create a visual impression of a large bottom, but waistline, which is too low, shows unwanted curves on waist.
STRIPES
Vertical stripes make the appearance look slimmer, but be careful - the horizontal ones creates the opposite effect. Choose finer lines, since wide stripes make everything look bigger. Also for men - good quality shirts (with good cut!) with stripes will make the look slimmer. However, keep in mind that a very slim striped fabric will emphasize any bumps.
In the end, we should not be obsessed only with the idea of making yourself slimmer!
Wishing You success in everything,
Xoxo, Katana